Timeless Treasures of Beautiful Family Portraits
Ruchika Jain - Family Photographer Wellington
At Ruchikajain Photography, we believe in capturing the true essence of your family through our family portraits and photo sessions. We go beyond stiff poses and create a relaxed and enjoyable experience that allows genuine moments of connection to shine through.
With a wide range of options, we offer more than just traditional white and black backdrops. Our collection includes over 30 backdrops featuring various themes such as lifestyle, floral, solid colors (yellow, red, pink, etc.), canvas, and other fabric options.
You are welcome to bring your own props and toys to personalize the session, and we also encourage capturing your home and lifestyle environment, whether it's your garden, a nearby park, or a beautiful beach.
In addition to capturing stunning photos, we go the extra mile by creating a special HD video memory of your session. Our behind-the-scenes footage adds an extra layer of depth and storytelling to your family photography experience. We believe in capturing not only the moments but also the emotions and connections that make your family unique. Our photo sessions are not limited to indoor settings; we also offer exciting outdoor family photo shoots, allowing you to create memories in a natural and beautiful environment.
Capturing the Magic of Childhood
Personalized Family Photography In Lower Hutt, Wellington
We understand that kids have boundless energy and an innate desire for fun and adventure. That's why we have special expertise in capturing the authentic spirit of children during our family engagements. Our photographers know how to connect with kids, allowing them to be themselves and ensuring their personalities shine through in every photograph.
We believe in creating genuine connections and delivering the very best experience for your family. We value the natural curiosity, enthusiasm, and playfulness of children and incorporate these elements into your family photos. Our goal is to capture the joy, laughter, and genuine interactions that make your family truly special.
Whether it's through interactive games, playful activities, or simply letting kids be kids, we create an environment where your little ones can express themselves freely. We strive to make the experience enjoyable for everyone involved, resulting in authentic and heartfelt family photos that you will treasure for a lifetime.
With our expertise in family photography and our commitment to capturing genuine moments, we look forward to creating a memorable and personalized experience for you and your family.
Magic of Family Portraits in 3 Easy Steps
Effortless Family Photography Made Easy
Consultation for Your Perfect Family Photo shoot
Ready to capture your family's beautiful moments? Our initial consultation is the first step in creating your perfect family photoshoot experience. Whether over the phone, through a Zoom call, or during an in-person visit to our studio, we'll connect with you to understand your unique vision and preferences for your family photography session. We'll discuss desired outcomes, location options, styling ideas, and any themes or concepts you have in mind for your family photos. Our goal is to answer your questions, address your concerns, and provide professional advice tailored to your family's needs. Contact us today to schedule your consultation and let's embark on this unforgettable journey together, capturing timeless family memories.
Fun-filled Family Photography Experience
On the day of the shoot, all you need to do is show up and be yourselves. We encourage you to play, laugh, and have a great time together while we skillfully capture those precious moments. Our goal is to create an environment where you can relax, be spontaneous, and simply enjoy each other's company. Through our lens, we'll freeze those beautiful memories in time, resulting in stunning family portraits that truly reflect your love and connection. Get ready for a memorable photoshoot experience that showcases the unique spirit of your family.
Cherish and Fill Your Home with Treasured Moments
After your family photography session, we want you to have tangible memories that you can proudly display and cherish in your home. Approximately 2-4 weeks following your session, we will invite you back to our studio for your personalized reveal. This is where the magic happens!
During the reveal, you will have the opportunity to select your favorite images, those that truly capture the love and connection within your family. We offer a range of high-quality products, including prints, canvases, and albums, that are carefully crafted to showcase your treasured moments. Our goal is to provide you with stunning pieces of art that you can proudly display in your home, creating a warm and inviting atmosphere filled with love and memories.
With our expertise, attention to detail, and vision, we will help you curate a collection of photographs that perfectly reflect your family's unique story. Let us guide you in selecting the perfect pieces that will fill your home with beauty, love, and cherished memories.
Family Photoshoots Photo Gallery
Scroll Photos inside the Box
Kind Words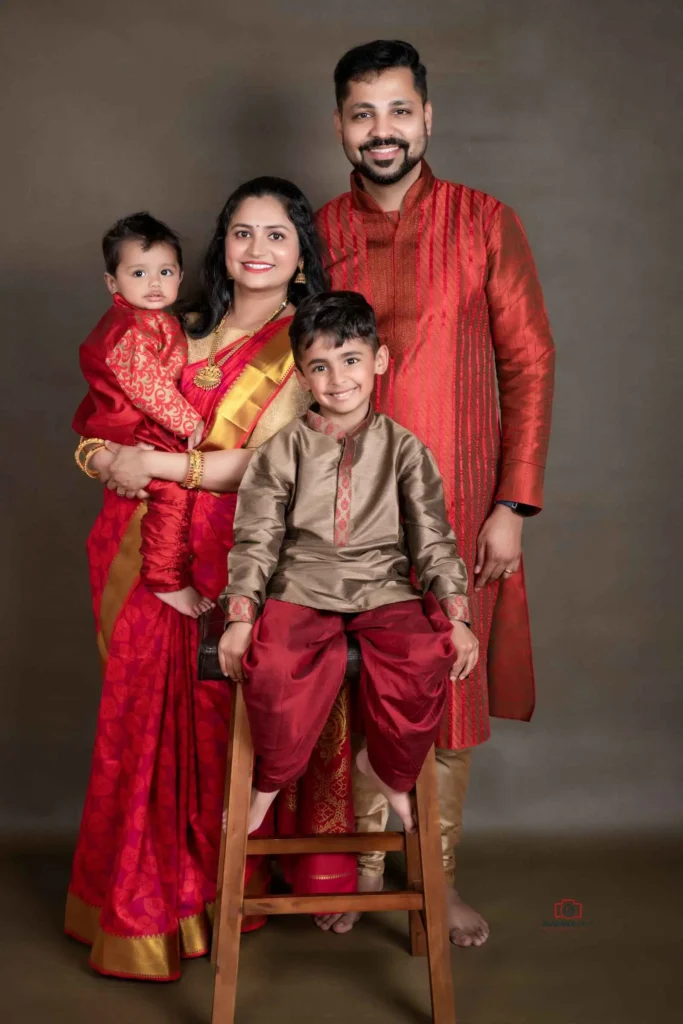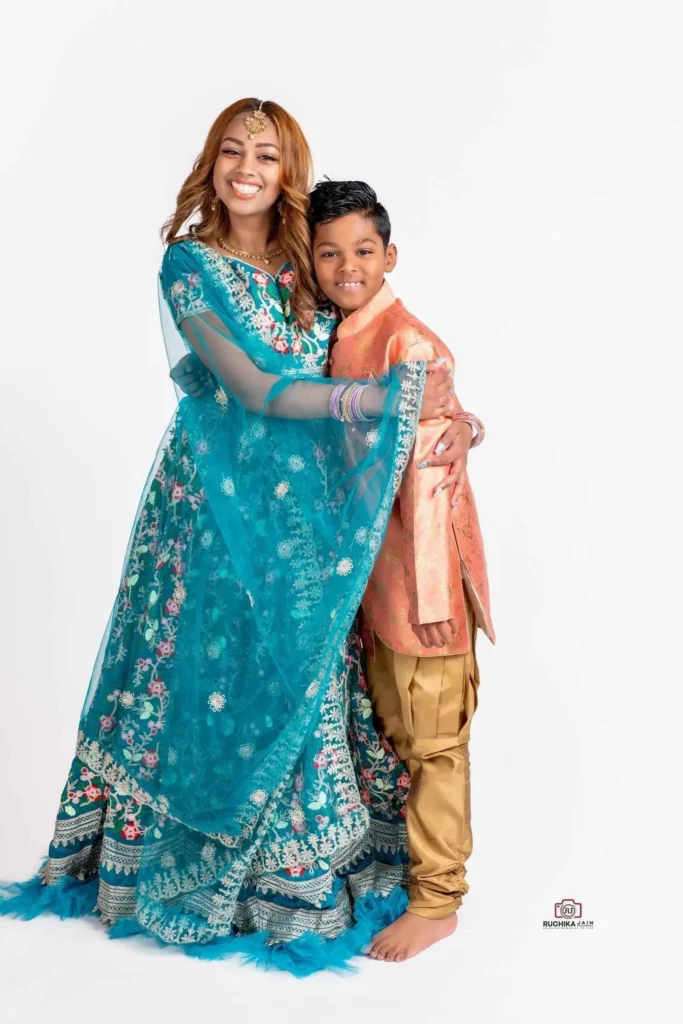 Kind Words
I had photo shoot done by Ruchika on our 20th Wedding Anniversary. She and DJ both are very friendly and know their job well. They both make a great team. They both made our day special forever by the nice photography they did. Thank you both of you.
Suman Sharma
We had a great time capturing some amazing photos with Ruchika and DJ. Thank you so much for making Cake Smash & Family photoshoot session a memorable one for us. It was great and entertaining experience for our family. Both Ruchika and DJ created a very friendly environment to make kids comfortable and engaged.
Ramya Srinivasan
Thank you Ruchika and DJ for the amazing photoshoot. You are such a talented photographer, and we were thrilled with the results from your work. Your ability to conduct a photoshoot with patience and kindness really set the tone for our session. From the beginning your friendliness and calm manner gave us all the confidence we needed. In addition to that the excellence services you offered were reasonable, and we will not hesitate to recommend you to others! Also we will not hesitate to use you again in future Thank you so much.
Neeleshni Kumar
First experience with a professional photographer, I must say we loved every moment, beautiful studio and setting, Ruchika and her amazing funny husband were gentle Caring and patient with our Huge family, also with our little young kids.
Highly recommend; you will feel very comfortable, great energy, lovely couple, very welcoming, kind and sweet, we left with huge smiles on our faces. They didn't rush us at all, they captured every moment we will forever cherish and we are super grateful. We can't wait for our photos. Super excited.
So if you are looking for a place to capture your precious moments with your loved ones, don't look any further. You are looking at the perfect place for it dede thank you again Ruchika!!! from Allen family
Adriana Jana Allen
Thank you so much @Ruchika didi and DJ Sir for the beautiful photos and life time memories.
We had a good time capturing some amazing photos of my little family with you guys. Thank you so much for making this photoshoot memorable and fun. It was a great and entertaining experience. Will definitely recommend you guys to family and others.
Mandeep